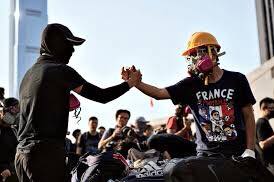 製裁中共 營救手足 大集會
集會名稱:製裁中共 營救手足 大集會
地點 :卡加利中領館前 (1011 6 Ave SW)
時間 : 2020年8月16日下午2時 (星期日)
2020年6月30日,中國共產黨在香港實施極具爭議和嚴酷的港版國家安全法, 中共隨即以該法禁止任何人,在香港提出關於人權、民主和自由的合理訴求。
香港警察於香港時間2020年8月10日,根據該法高調拘捕蘋果日報創辦人兼社運人士黎智英先生、其兩名兒子和四名蘋果日報高層職員,調動二百多名軍裝警員大肆搜查報館,鎮壓出版和新聞自由。香港警察隨之拘捕三名社運青年,包括前眾志成員周庭。香港已步入紅色恐怖,政府對異己的政治迫害會無日無之。
加拿大作為一個自由、民主和人道的國家,有義務為全人類推動其關於人權、自由和民主的核心價值。我們要求加拿大政府,根據馬格尼茨人權問責法,制裁破壞香港自治的中國和香港官員。
我們同時敦促加拿大政府推行"安全港計劃",加快對因該法政而受到治迫害威脅的香港人、留學生和海外雇員,提供保護和永久居住權。
為了促使我國政府正視上述訴求,一個全國性的大型集會將於8月16日在各大城市進行,參與城市包括多倫多、渥太華、溫尼伯、愛民頓、卡加利、維多利亞和溫哥華。
我們呼籲各界人士積極參與和支持訴求。
因應疫情所需,出席集會人士請帶上口罩,保持社交距離,和就高溫可能出現採取適當措施。
Title: 8.16 Canada-Wide Rally to Sanction Chinese Officials & Protect Hongkongers
Venue: Outside the Calgary Chinese Consulate (1011 6 Ave SW)
Time: 2 pm on 16 August 2020 (Sunday)
On 30 June 2020, Chinese Communist Party imposed the controversial and draconian National Security Law in Hong Kong and the party has immediately used the law to ban any legitimate appeals for human rights, democracy and liberty in Hong Kong.
On 10 August 2020 (Hong Kong time), Hong Kong Police arrested, in a high-profile manner, Hong Kong Apple Daily founder and pro-democracy figure Mr Jimmy Lai, his two sons and four other Apple Daily's senior executives under the said law. More than 200 hundred police officers raided the building of Apple Daily. It was a crackdown on press freedom. The arrests were followed by three other arrests of young social activists, including Agnes Chow, a former member of Demosisto. Hong Kong has become a city of red terror. Political persecution against dissidents will continue in Hong Kong.
As a liberal, democratic and humanitarian country, Canada is obliged to uphold its core values of human rights, liberty and democracy for all people in the world. We therefore require our government to sanction, under Sergei Magnitsky Law, both Chinese and Hong Kong officials who have undermined Hong Kong's autonomy.
We also urge our government to offer a "Safe Harbour Program" with an expedited process to grant protection and permanent residency status to Hongkongers, international students and expatriate workers who are at risk of political persecution under the law. With a view to urging our government to envisage the said appeals, a country-wide rally will be held in Toronto, Ottawa, Winnipeg, Edmonton, Calgary, Victoria and Vancouver on 16 August 2020 (Sunday).
We call for your active participation to support the appeals.
In view of COVID19, participants are advised to wear a mask, keep social distance and prepare for hot weather.
Related Posts