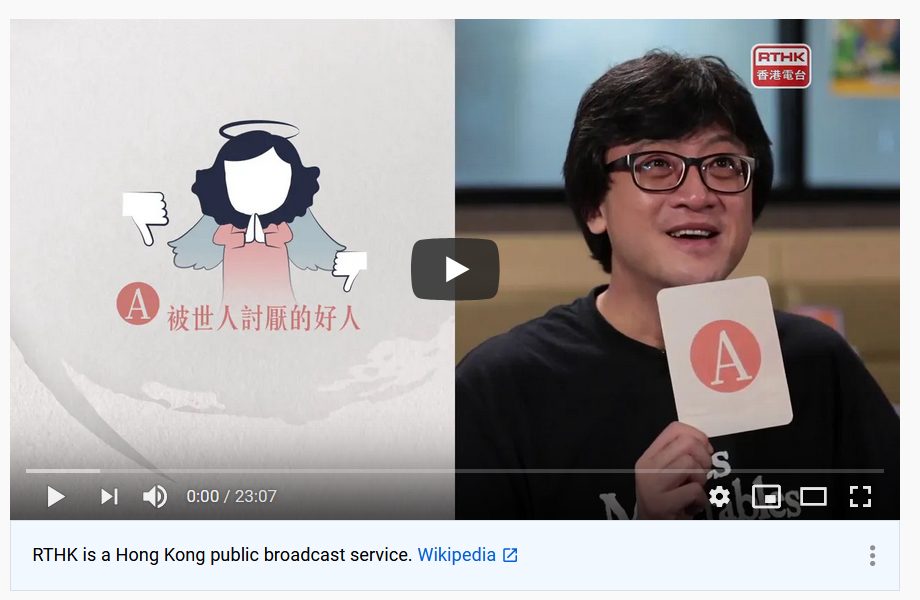 Hong Kong Connection Talks.鏗鏘說:馬時亨︰香港仔的品格
In this week's RTHK edition of 'Hong Kong Connection Talks', Paul Shieh once again has to put up with Pro-CCP turd Fred Ma Si Hang, aka 'Horse Shit Creek'. The former moronic President of the MTR, plus various embarrassing stints on the HK Government Executive Cabinet. Now he is further pissing off Hong Kongers with an Advocacy Group, together with none other than bastards such as former Chief Executives Tung Chee Hwa and CY Leung.
Politicians are either remembered for being a great leader, an enabler with people, or having a great team with excellent delegation skills. Then again, since the Handover, we only got the worst of the worst. Such as puppets, Yes-Men and Women, pompous asses, arrogant bastards, or those like 'Shit Creek' himself, pretending to listen to people but being a hypocrite. All the while thinking that he is so 'Rounded' for playing both sides.
It was hard to watch when Paul had to choose his words carefully and wearing kid gloves in asking 'Shit Creek' questions. A couple of problems came to my mind about this turd's complete lack of sincerity, intelligence and integrity.
First, he criticized the youngsters today lacked the 'Respect for their Masters and Seriousness in Obedience'. Somehow for an educated HKU graduate, he should had known that 'Respect' goes both ways. A braggart instructor who demands respect and picking on his/her students would do no good at all. Comparing to a kinder professor who allows students to make mistake without overly critical. An example he used was that during the HKU talent competition in 1970 where Ricci Hall by someone with a name of Sam Hui would be the clear winner. But it was rigged by Cornell Hall instead. So the pissed off students went and trashed Cornell Hall thoroughly as a payback. Come to think of it, what was the difference from that and the designated renovations of certain Pro-CCP business from last year?
Second, he mentioned that his first job at Chase Manhattan in 1973 was $1,600 HKD per month and was able to buy a typical 'Plated Rice' Dish for $1 HKD at Central. Then he said, 'Now average salaries of $16K HKD per month is pretty good.' Right away, I thought, is this guy really freaking 'out to lunch'? He got his degrees in Economics so his math should be pretty good, correct? Suppose everything remains the same after 47 years. 10 times that salaries equivalently means the same lunch he had at Central would be $10 HKD. But hell no, $10 HKD boxed lunch was about the price in 1983, and definitely not in Central for crying out loud! These days, a cheap boxed lunch would be at least $50 HKD and not in Central. That means to have Fred's standard back in 1973. An average starting salary should be at least $80K HKD plus. If you do the math, that would probably be rounded to be $1M HKD plus each year not including bonuses. Is this the average yearly salary in HK after you got your undergraduate degree? Hell no! Then he said, 'Oh, but I understood the anger from Youngsters these days.' Really? He left a $10M HKD per year job from Chase to join the HK Government. How far out of touch is he, along with the rest of the turds from the Pro-CCP camp?
Third, he was always listening to the people and they are the 7.5 Million Bosses. If that's the case, 'Shit Creek' did one lousy job after another but got higher promotions and salaries to the detriment of the taxpayers. How could this be fair and accountable? Especially when he was running one of the most profitable transit systems in the world literally to the ground with poor management, costs over run analysis, rigged bidding with corruptions aplenty, unacceptable construction standards, cutting corners and so on?
Yet, these completely incompetent clowns have been in charge of Hong Kong since the Handover. They are still wondering 'why are Hong Kongers so pissed off at us?' No freaking kidding! That's why Hong Kongers wanted their city back, starting with freedom and democracy. And gradually repairing all the damage these turds had done.
In Cantonese and Traditional Chinese captioning. Feel free to add more insults.
Related Posts