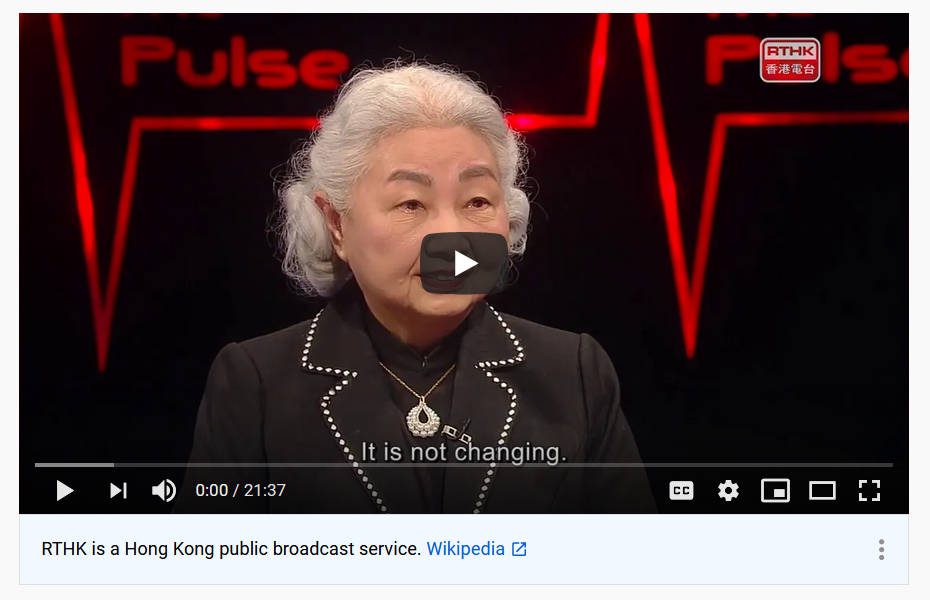 The Pulse:National security law discussion with Elsie Leung & June 4th candlelight vigil banned
In this week's RTHK 'The Pulse', Steve Vines had the unenviable task to interview former HK Government Executive Council Member Elsie Leung Oi See. Also a Pro-CCP DAB turd and a member of the CCP. She was inhumane enough to manage to lie convincingly without blinking her eyes. A skill so difficult that only a seasoned brainwashed numb skull could perform effortlessly when she was talking about National Security Law. Plus educating us mere mortals that there are in fact 9 parties in the PRC.
On the good side, 6/4 Remembrance Vigil at Victoria Park didn't have any incidents or arrests. Kenneth Lam, a barrister himself, was the main organizer and himself witnessed the horror of that fateful day supporting the students at Beijing as the Chairman of the Hong Kong Federation of Students back in 1989.
He said carrying on and telling the truth against this evil regime is his duty. In his actions as a Human Rights Lawyer to pass these accounts to the next generations to treasure this gift of freedom and preserving democracy.
Also I am encouraged by the Hong Kong Youngsters taking up the torch. Particularly at 19:30 of the video, a special recognition and sincere thank you to my Alma Mater at St. Louis School, Third Street, Western. These courageous young men joining in hands of solidarity fighting for truth and justice.
Related Posts